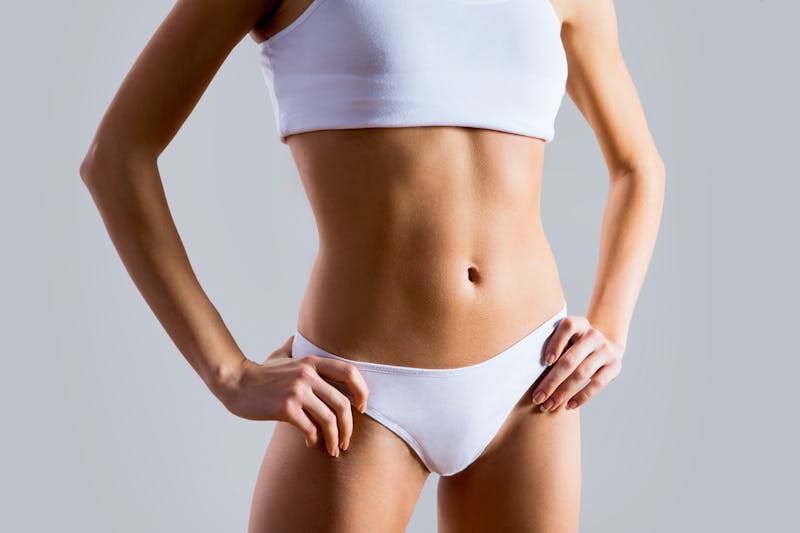 If you're ready to achieve your ideal body shape without surgery or downtime, AVÉLI Body Contouring may be the perfect solution for you. AVÉLI body contouring uses advanced technology to target and eliminate unwanted fat cells, resulting in a more toned and sculpted appearance. This results in a slimmer, more contoured silhouette without the pain or recovery time associated with surgery. Learn why Dr. Guy Cappuccino of Guy Cappuccino MD Plastic & Reconstructive Surgery loves AVÉLI!
How Does AVÉLI Body Contouring Work?
AVÉLI is a safe and effective alternative to traditional liposuction. Using advanced technology, it targets and destroys fat cells without damaging surrounding tissue. Suitable for both men and women, this non-invasive procedure uses ultrasound and radiofrequency energy to break down and eliminate fat cells through the lymphatic system.
Each session lasts 30-60 minutes, and the required sessions vary by individual and area being treated. While most people see results after one session, optimal results are achieved after several sessions. Remember that AVÉLI Body Contouring is not a weight loss solution and is best for those close to their ideal weight but with stubborn areas of fat resistant to diet and exercise.
Benefits of AVÉLI Body Contouring
Whether you're targeting stubborn fat in your abdomen, thighs, arms, or other areas, this innovative treatment can help you achieve your goals quickly and easily. Here are some additional benefits you can expect:
Unlike traditional liposuction, which requires incisions and anesthesia, AVÉLI is non-invasive and requires no downtime
You can return to your daily activities immediately after your session
Most patients begin to see a noticeable reduction in fat after just one session, with optimal results typically achieved after a series of treatments
You can achieve the toned, sculpted physique you desire in a relatively short amount of time
AVÉLI stimulates collagen production, which helps to tighten and firm the skin
You can achieve a more youthful, toned appearance without the need for additional treatments
Who Is An Ideal Candidate For AVÉLI Body Contouring?
Ideal candidates for AVÉLI body contouring are:
Individuals seeking non-invasive body contouring solutions
Those looking to eliminate stubborn fat pockets
Men and women interested in achieving a more sculpted appearance
Individuals who want to enhance their natural curves
Post-pregnancy women seeking to regain their pre-pregnancy shape
Those committed to maintaining a healthy lifestyle
Candidates with realistic expectations about the results
People with good skin elasticity for optimal outcomes
Those who want to avoid surgical procedures and downtime
AVÉLI can target areas such as:
Abdomen
Thighs
Hips
Arms
Chin
AVÉLI Results
AVÉLI Body Contouring is an innovative and effective way to achieve a more toned and contoured appearance. With its quick and painless procedure and noticeable results, it's no wonder that more and more people are turning to this treatment to help them achieve their body goals.
Some of the results you can expect include the following:
Dramatic

transformation of your body contours
Noticeable reduction in stubborn fat deposits
Enhanced natural curves and silhouette
Improved skin tone and texture
Visible tightening and firming of targeted areas
Boosted self-confidence and body image
Long-lasting results for a sculpted appearance
Achieve The Body Of Your Dreams With AVÉLI Body Contouring!
Choosing the right plastic surgeon is critical to ensuring a smooth, pleasant experience and exceptional results from your AVÉLI treatment. Dr. Guy Cappuccino is a board-certified plastic surgeon who provides compassionate, patient-centric care. He founded Guy Cappuccino MD Plastic & Reconstructive Surgery in 2008, and since then, he and his team have helped countless patients achieve their aesthetic goals and restore their self-confidence. Contact us today to schedule a consultation!