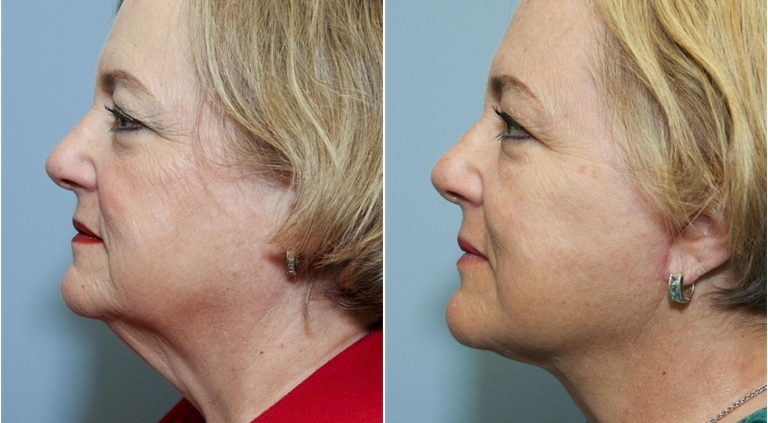 * Individual results may vary. Refer to disclaimer below.
I'm 55 years old and starting to see loose hanging skin on my neck just like my mother had. What can I do to avoid having a turkey neck? Are there any non-surgical options? Thanks! Deb C.
Thanks for the question Deb, I hear this exact story quite frequently from my patients. Neck rejuvenation is one of my specialties so I certainly can help you. I see all ages of patients, both men and women, coming to me with neck concerns. Some people are born with beautiful necks and jawlines, others are not. Unfortunately the aging process takes its toll on everyone's neck and is difficult to hide. Before we talk about treatments, it is important to first understand what causes your "turkey neck".
Our anterior neck (the part we see in the mirror) has three main components: skin, layers of fat, and a thin muscle called the Platysma. The Platysma wraps around our anterior neck, covering the vital structures and giving our neck its shape. It has a natural split in the middle. As we age the muscle becomes loose and begins to hang. The split widens and gives the appearance of two hanging folds of skin in the front of our necks. This is called Platysmal banding, but most patients will refer to it as their "turkey neck". Many people incorrectly believe their skin is the culprit, but actually it's the underlying muscle that is loose and the skin is just along for the ride.
The fat pads below the chin in the neck can also be a part of the problem. In some people these fat pads are overly large, independent of body mass index, and can exacerbate the hanging skin and/ or blunt neck and jawline definition.
Finally we get to the skin. Like the rest of our body, the skin covering our neck will become thinner as we age and more prone to wrinkles. Unfortunately the skin of our neck is thinner to begin with and constantly exposed to UV photo damage. Many of us remember to put sunscreen on our faces, but forget about our necks. And so the neck skin does become loose and wrinkled with time and accumulates dyschromia (light and dark spots).
Now let's discuss treatment options. For those of you looking for a quick fix I'm afraid there isn't one. As I explained above, the aging neck involves skin, fat, and muscle, so attempting to treat the skin only will lead to sub-optimal results. Believe me, I have 5 lasers, IPL's, chemical agents, neuromodulators, Coolsculpting, and liposuction at my disposal, and I can tell you- they will not help an aging neck. Non-invasive technologies such as ultrasound (Ultherapy) or radio-frequency (Thermage) claim to tighten skin, but results are inconsistent and the results are often temporary. Topical creams can improve the appearance of the skin by balancing skin tone and diminishing fine lines, but they will not correct your aging neck. As a biochemist and principle investigator for a cosmeceutical company I can tell you botanical extracts can and do have a role in supporting healthy skin, but they will not help a "turkey neck".
The good news is there are several minimally invasive neck lift procedures that have outstanding and long-lasting results. Some can even be done under local anesthesia in our office. I remove any excess fat if present, tighten the loose muscle and fix the midline separation. Lastly I surgically tighten and remove excess skin as needed, but often, when we fix the underlying issues, the skin conforms to the youthful neck shape and minimal skin removal is actually needed. Recovery time is just a couple of days and the results last for many years. Visit my before and after gallery at www.DrCappuccino.com to see actual patient neck lift results. Thanks for the question. Dr. C