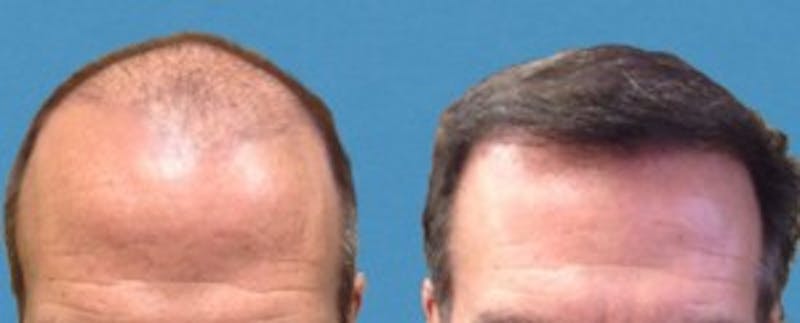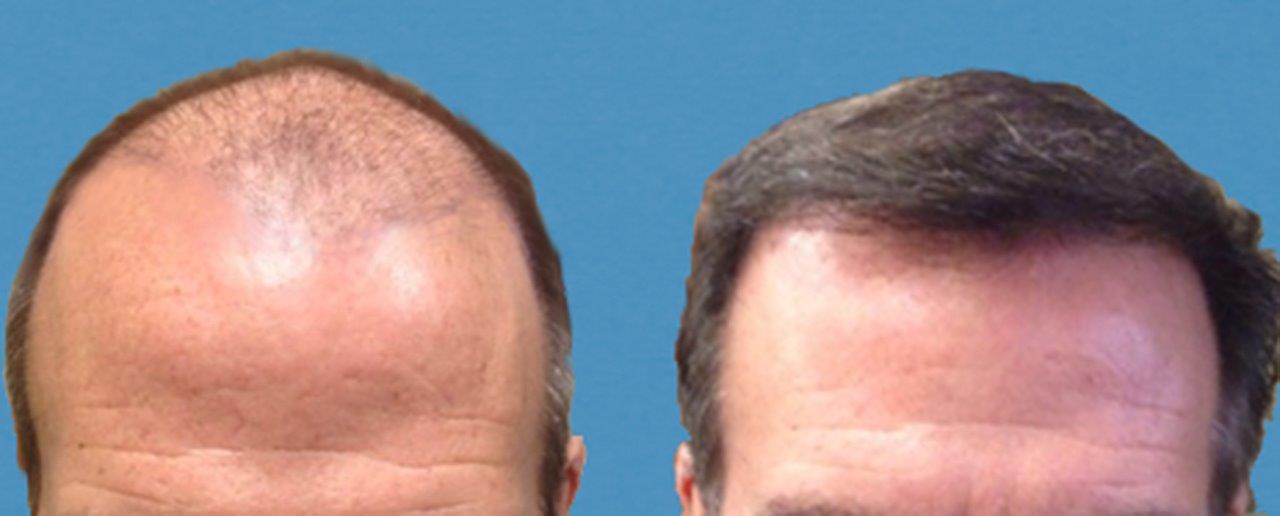 * Individual results may vary. Refer to disclaimer below.
Hereditary hair loss is a medical condition that affects about 50 million American men and 30 million American women. By the age of 35, two-thirds of American men experience some degree of measurable hair loss, and by the age of 50, approximately 85 percent have significantly thinning hair, according to the American Hair Loss Association. This hereditary condition, clinically termed androgenetic alopecia, is characterized by a receding hairline as well as a loss of hair on top of the scalp.
When hair loss is first noticed, initial therapies are aimed at preventing further hair loss. For women a dermatologic workup may be indicated to determine if there is an underlying medical cause of hair loss. Medical therapies include topical Minoxidil and/ or oral Finesteride. Another new and promising treatment is PRP (platelet rich plasma), which uses a patient's own activated platelets injected into the scalp, to slow and even reverse hair loss. However, once hair follicles are gone for more than a few years, the only method of restoration is hair transplantation. Over the years, hair transplantation has developed a negative image in popular culture due to early poorly executed "hair plug" procedures which left people with a "corn row" or "doll's hair" appearance. This sends shivers down my spine when I hear patients say these words because for decades now FUT (follicular unit transplantation) has provided very natural appearing hairlines. The FUT method required taking a strip of hair from the back of the scalp and cutting it into individual follicular units and then transplanting them. Due to the invasive nature, this procedure was typically done in an operating room under anesthesia and was both costly and uncomfortable. Many potential patients shy-away from (or are not candidates for) the traditional FUT or "strip method" of hair replacement because of the slow recovery time, the loss of feeling at the incision site, the linear scar on the back of the head, or the amount of post-operative pain involved.
The Maryland Hair Center is excited to announce our newest offering, NeoGraft®. NeoGraft® introduces the "state-of-the-art" solution for hair loss. This game-changing technology automates the Follicular Unit Extraction (FUE) method to give patients more natural looking results with minimal downtime, no linear scaring and no stitches. It is a minimally invasive procedure where individual hair follicles are extracted from the back of the scalp via the NeoGraft machine and then implanted into the areas where hair loss has occurred. The entire procedure is done with local anesthesia only in the comfort of our office while patients binge watch a Netflix series! There is almost imperceptible scarring when compared to "strip procedure", which may leave you with a very noticeable scar. NeoGraft has a greater that 90% take rate, so pretty much every single hair follicle that is taken out will grow. There is very little downtime after your procedure when compared to strip procedure. Patients can usually resume normal activity within 48 hours excluding strenuous exercise when done via NeoGraft. We incorporate all the latest techniques in hairline design to ensure your transplant will look natural, after all, as you know, the best transplants are the ones you cannot tell are transplants.
We recommend a full consultation with Dr. Cappuccino to ensure you are a good candidate for the NeoGraft procedure and to see how many grafts you would need in order to get the best results. We have a cutting edge simulation visualizer on our website which allows prospective patients to virtually "try on" a full head of hair before their consultation by uploading their own picture. On Thursday March 2nd, The Maryland Hair Center, located in Mt. Airy will be having its annual NeoGraft open house with individual consultations by appointment only and 20% off all procedures. For more information on NeoGraft or for a free simulation, visit www.marylandhaircenter.com or call Dr. Cappuccino at 301-829-4110