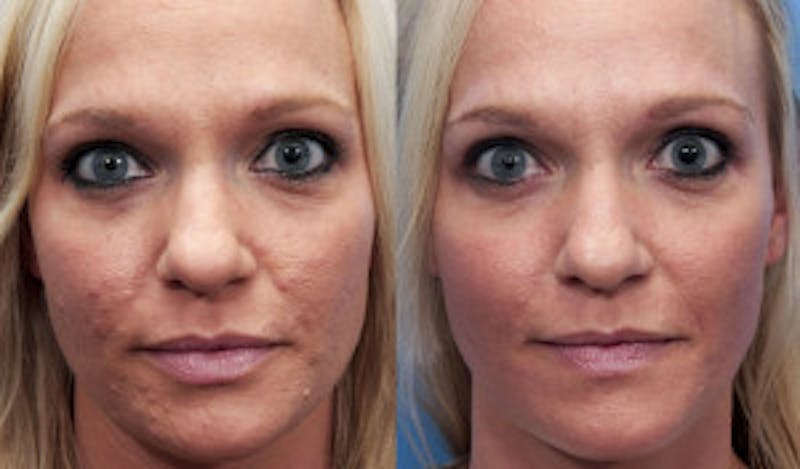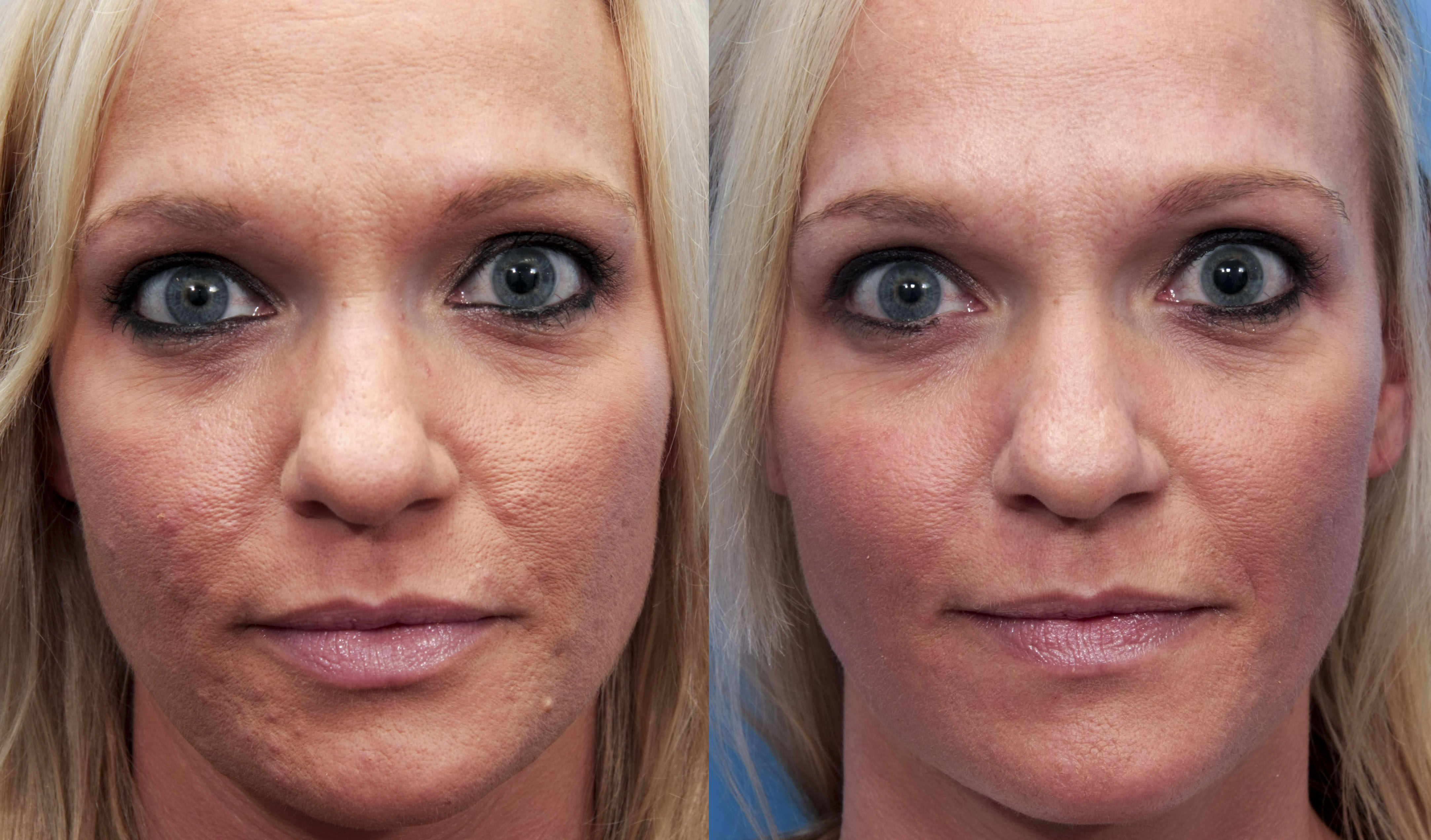 * Individual results may vary. Refer to disclaimer below.
Acne can leave noticeable scars that are damaging both cosmetically and emotionally. This has traditionally been a vexing problem for patients and doctors alike. Fortunately there have been recent advances in treatment. Current options for correction of acne scarring include: microdermabrasion, microneedling, laser resurfacing, platelet rich plasma (PRP), highly focused radio-frequency microneedling (INFINI), and certain dermal fillers (Bellafill). All of these treatments are aimed at smoothing the contour of the damaged facial skin.
The acne treatments can be broken down into 4 categories:
1: dermal abrasion (sanding)
2: CIT (collagen induction therapy) healing from within
3: Subcision (surgically releasing the depressed scar)
4: Dermal fillers-filling the scar depressions
1: In the dermal abrasion category we have traditional dermabrasion and microdermabrasion. Microdermabrasion uses a fine spray of crystals with suction to gently sand the outer layer of skin cells. It is a less aggressive version of dermabrasion, once the primary treatment for acne scarring, but now almost abandoned due to it's significant recovery period. Microdermabrasion is often used in conduction with other modalities to boost effectiveness. When used alone the results are modest.
Fractionated laser resurfacing, (PIXEL) uses beams of laser energy from a carbon dioxide laser to burn tiny channels in the skin. Using varying depths and power levels, impressive smoothing of the outer layer of skin can be achieved with minimal downtime, usually just 2-3 days. When applied deeper, these lasers can also stimulate collagen production adding to the result.
2: Collagen induction therapies involve stimulating the body to heal the scar by developing new collagen and elastin where the damage occurred. Microneedling is a minimally invasive procedure that involves the use of a mechanized device that contains fine needles. The needles are use to puncture the skin to create a controlled skin injury. Each puncture creates a channel that triggers the body to fill these microscopic wounds by producing new collagen and elastin. New collagen and elastin production can improve acne scars, reverse years of sun damage, and enhance the overall appearance of aging skin. Micro-needling also helps the skin absorb treatment serums (such as hyaluronic acid or vitamin C) 80% more effectively deeper into the skin. Think of it like aerating your lawn when fertilizing.
Platelet rich plasma, or PRP, is an adjunct to microneedling. PRP harvests the patient's own activated platelets and then directs them to the site of the scarring. The activated platelets cause a significant boost in collagen production when combined with microneedling. The PRP can also be injected directly into the depressed scar to stimulate healing and smoothing.
INFINI is highly focused radio-frequency microneedling. It adds RF energy to the tips of shielded micro needles to apply heat at deeper levels in the skin. The heat causes thermal micro-injury to the skin and boosts the body's healing process to tighten skin and fill scars. This is the most recent advancement to collagen induction therapies. Downtime is 2-3 days and the results have been impressive.
With any of the collagen induction therapies, results will take time to be noticeable. Rebuilding your collagen will take up to 6 months so your skin will continue to improve over 6-12 months.
The number of sessions required depends on the condition of your skin and your desired outcome. On average for mild acne scarring we recommend 3 to 4 treatments. Deeper scars and stretch marks may require upward of 5 treatments. An interval of 4 to 6 weeks between treatments is typically recommended.
Subcision is simply using a needle or sharp instrument to undermine, or release the tethered scar. When performed alone the results are less than ideal, but when combined with PRP or a dermal filler, it is a powerful tool.
Dermal fillers are the last treatment option for acne scarring. Recently the FDA approved Bellafill for the treatment of some types of acne scars. When combined with subcision, the undermined acne scar is back-filled with Bellafill to immediately smooth the scar. As the Bellafill is dissolved by the body, new collagen is deposited in its place, making the results near permanent.
For more information on the treatment of acne scarring, contact Dr. Guy Cappuccino in Mt. Airy at 301-829-4110 or visit us at www.DrCappuccino.com