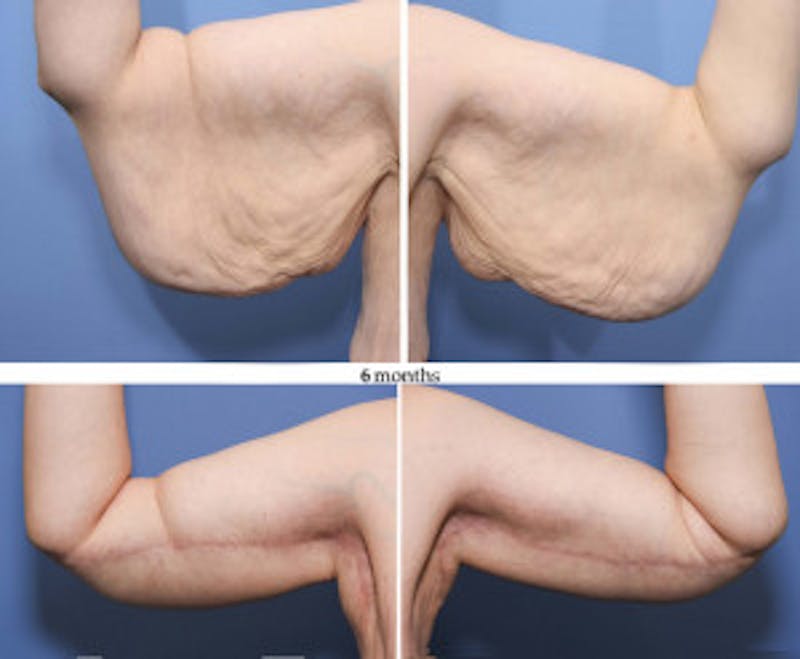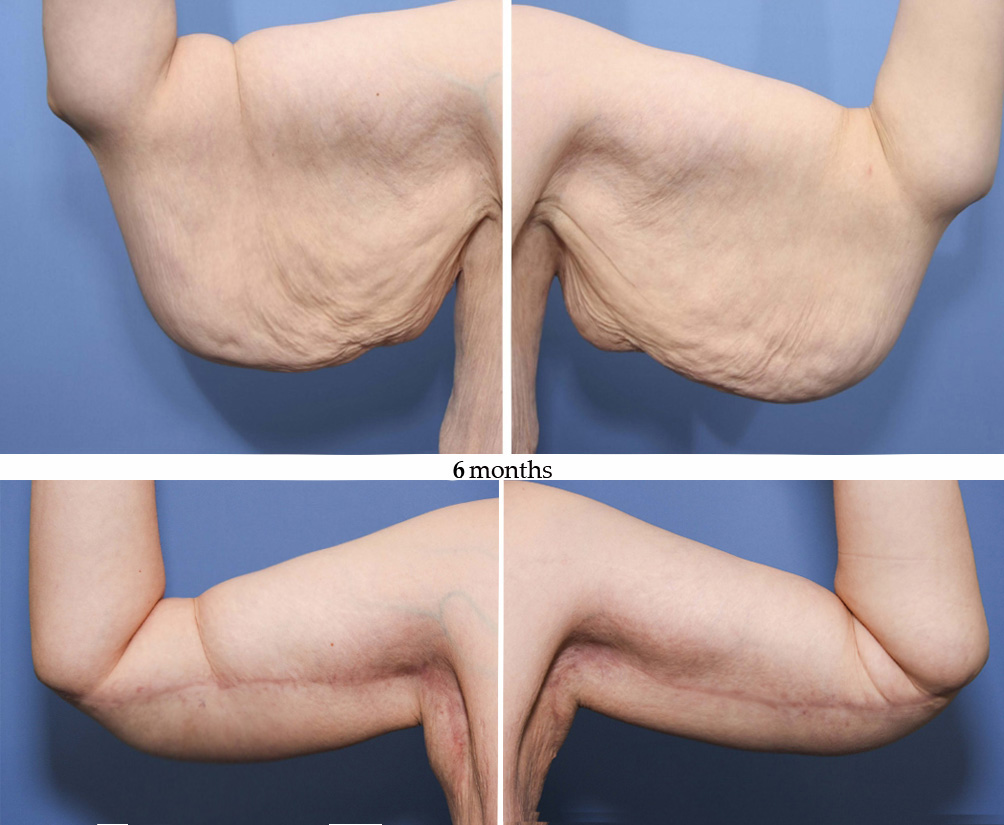 * Individual results may vary. Refer to disclaimer below.
A common request I see from patients is correction of upper arm excess skin and fat. Known medically as brachial dermatolipodystrophy, this condition takes on many colorful and comical colloquial names. Bat-wing deformity, bingo-flap, and flying-squirrel arms are just a few that I've heard over the years. When I asked my patient where the term "bingo-flap" came from, she said it reminded her of when older ladies wave their arms and yell "bingo". You learn something every day. But where does all this extra skin come from? After sustaining massive weight loss, commonly after bariatric surgery, individuals generally suffer from overall deflation and skin excess. The arms are most susceptible to this phenomenon. Individuals present with a broad range of manifestations with regard to skin excess and laxity, as well as subcutaneous fat volume.
Fortunately several procedures and surgeries are available to correct this condition and restore a youthful contour. What may surprise you is that brachioplasty, or arm lift surgery is on the rise. According to an article in USA TODAY, this surgery has increased 4,000% in the past decade. That is a lot of arm operations!
There is a range of brachioplasty procedures available to treat the varying degrees from minimal to severe skin excess. Some patients may only present with excess fat in the upper arms, which respond well to liposuction or Coolsculpting. However skin excess may need to be addressed after fat removal.
One of the biggest concerns for patients seeking brachioplasty is scar length. While the short scar technique is attractive for its barely visible scars, it is also accompanied by minimal results. Scar length correlates directly with the degree of skin removal. The various surgical options with their benefits and limitations need to be considered, and if the patient chooses the more limited scar, he or she should understand the result will be more limited. Currently, there are no effective scarless or minimally invasive techniques that can adequately reduce the skin laxity and excess associated with massive weight loss. Neither liposuction nor laser or light-based tightening therapies can correct the skin excess.
Fortunately the scars do fade over the course of 12-18 months and can be barely visible over time. Care is taken to conceal them on the inner part of the arm. Post-operative advances in scar management have decrease scarring and shortened healing time. In my practice specialized elastic silicone sheeting is applied after surgery to minimize scarring. Either way, most patients are happy to accept scars for excellent arm contour. Brachioplasty risks also include the potential for numbness or pain of the arm.
Due to the risks of brachioplasty surgery and the overall complexity of the arm, it is critical to have the surgery performed by a board-certified plastic surgeon that is familiar with the anatomy, surgical procedure, and postoperative management. Please contact Dr. Guy Cappuccino at 301-829-4110 for more information or a consultation regarding brachioplasty.