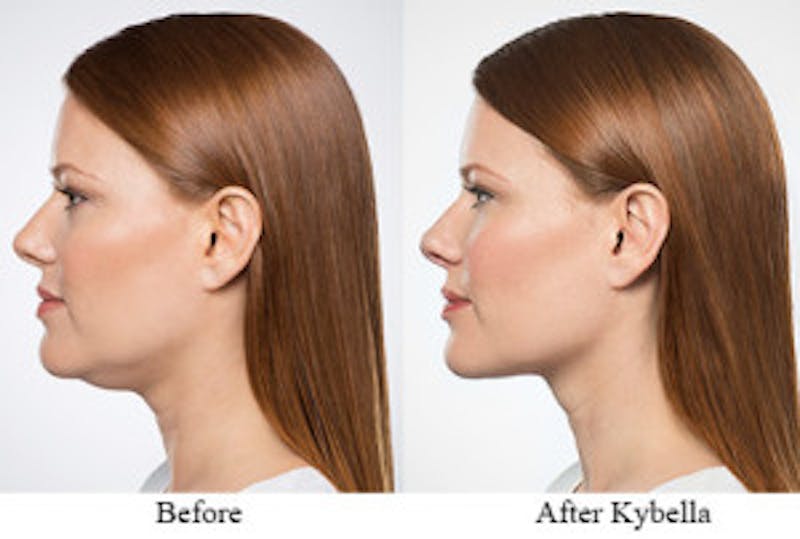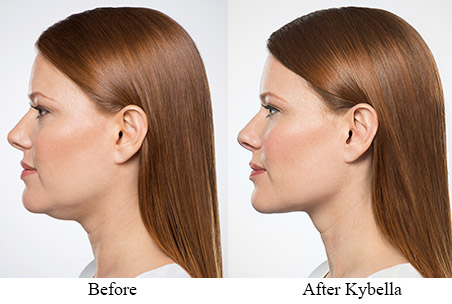 * Individual results may vary. Refer to disclaimer below.
What is KYBELLA?
KYBELLA® is the first and only FDA approved injectable drug that contours and improves the appearance of submental fullness. A common cosmetic complaint, submental fullness or lipodystropy, is excess fat in the anterior neck under the chin. Up until recently, the only effective way to remove the fat was liposuction. While effective and economical, some people are opposed to invasive procedures, even minimally invasive techniques like liposuction.
KYBELLA® is an injectable treatment from Allergan. KYBELLA® is a formulation of deoxycholic acid, a naturally-occurring molecule in the body that aids in the breakdown and absorption of dietary fat. When injected into subcutaneous fat, KYBELLA® causes the destruction of fat cells. Once destroyed, those cells cannot store or accumulate fat.
Basically, what it's doing is disrupting the fat cell membrane. After that, the fat cell releases its fatty contents and the body metabolizes and disposes of the fat. As for the recovery itself, there is an inflammatory component immediately following the injection. There is some swelling and some discomfort for a few days because the body is cleaning up the cellular debris and creating some contraction in the skin.
Typically 2-4 treatment sessions are required to achieve desired results. Each treatment is spaced at least one month apart. After the aesthetic goals are achieved, re-treatment with KYBELLA® is not expected. The cost of KYBELLA varies based on how much fat there is to treat and what your doctor charges, depending on the area in which you live. Each treatment session ranges in price between $800-$1600. Adverse effects include possible numbness, swelling, and bruising.
Are you afraid of needles? COOLMINI™ from CoolSculpting by Zeltiq is achieving good results as well. Zeltiq boasts "no needles, no surgery, no downtime". COOLMINI™ is FDA cleared for the treatment of submental fat. It was designed for small areas of fat including submental fat, axillary fat (the fat in front of your arm pit), knees and other smaller bulges of stubborn fat. On average patients can expect 20% reduction in fat after each treatment. Typically 2-3 treatments are required for optimal results. Each treatment session is approximately $1000. Adverse effects can include post-treatment discomfort. No bruising or swelling is expected.
For more information on KYBELLA and other treatments we offer, contact Board Certified Plastic Surgeon Dr. Guy Cappuccino in Mount Airy at 301-829-4110.