Eclipse Reverse TR Tattoo Removal
Over 45 million Americans have tattoos. That includes 40% of all Americans ages 26-40. At some point, some of these tattoos will no longer be desired by their owners and they will seek options for removal. I have been very interested in tattoo removal for years, but have felt that the existing technology was imperfect, until now. Previously, tattoo removal techniques were centered around laser removal. Specific wavelength lasers were needed for each color ink to be removed. That meant that multi-colored tattoos required multiple lasers and numerous treatments for removal, sometimes 8 or more treatments. Sometimes the tattoos could not be completely removed. Furthermore, these treatments can be painful and the costs add up. So I have waited for a new and better technology to arrive. I am proud to say that I am the first physician in the State of Maryland to offer this ground-breaking technique- Reverse TR (tattoo removal) from Eclipse Aesthetics.
Reverse TR is a novel tattoo removal system. The system is based on METR (mechanized epidermal tattoo removal) technology. Essentially, it is the reverse process of tattooing, hence the name. Prior to treatment a topical anesthetic is applied. With METR, a very thin needle is used to dispense a special, natural solution to the tattooed area. This needle consists of several micro-needles. During the treatment process, the Eclipse Reverse and METR technique causes the tattooed pigments to be expelled to the surface of the skin in the form of small scabs. It takes approximately 2 weeks for the scabs to form. The ink becomes part of the scab and falls off.
The Eclipse Reverse works with all tattoo colors, of all ages, all sizes, and all styles. Small tattoos may be removed in one session, however it will typically take 3-4 treatment sessions for complete removal of larger tattoos. The average period between treatments is 6-8 weeks. The Reverse tattoo removal system is typically less expensive than traditional laser removal techniques and requires fewer sessions.
For more information on Eclipse Reverse or to schedule a consultation- call Dr. Guy Cappuccino at 301-829-4110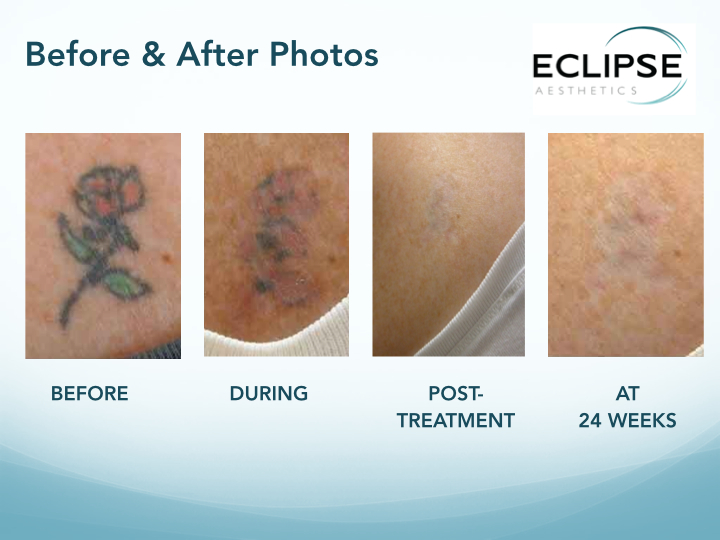 * Individual results may vary. Refer to disclaimer below.